Our third crowdfund was such a success that it ended up running all year and prompted us to create a non-profit organization called Enthusiastic Consent!
In 2018 we leveled up and started offering bulk swag to activists, theme camps, regional burning man events, and others who wanted materials for their workshops or communities. We are proud to announce that we filled 15 bulk orders in 2018!!
During 2018, we raised $4133.51 from 134 total donors. (To compare, 2017 = $819.22 raised from 35 donors & 2016 = $882.47 raised from 47 total donors.) In total, we spent $4129 on swag production, shipping, and fees. The Crowdfunded swag was mailed or given to donors directly, was gifted to pARTicipants at Transformus and Ignite! at the 11th Principle Consent Team's interactive Consent Tent, distributed to theme camp liaisons, gifted to the super volunteers, and distributed at other allied events throughout the year. 11thP swag was also featured at Burning Flipside, numerous Burning Man theme camps including Camp Justice League and Lunar H3, Party Liberation Front events, PlayThink, Hulaween, Frolicon, DragonCon, PUSH, and others. We have remaining supply and are planning to keep a stock year-round to meet the often last minute needs of event organizers and theme camps.
Financial Breakdown
Buttons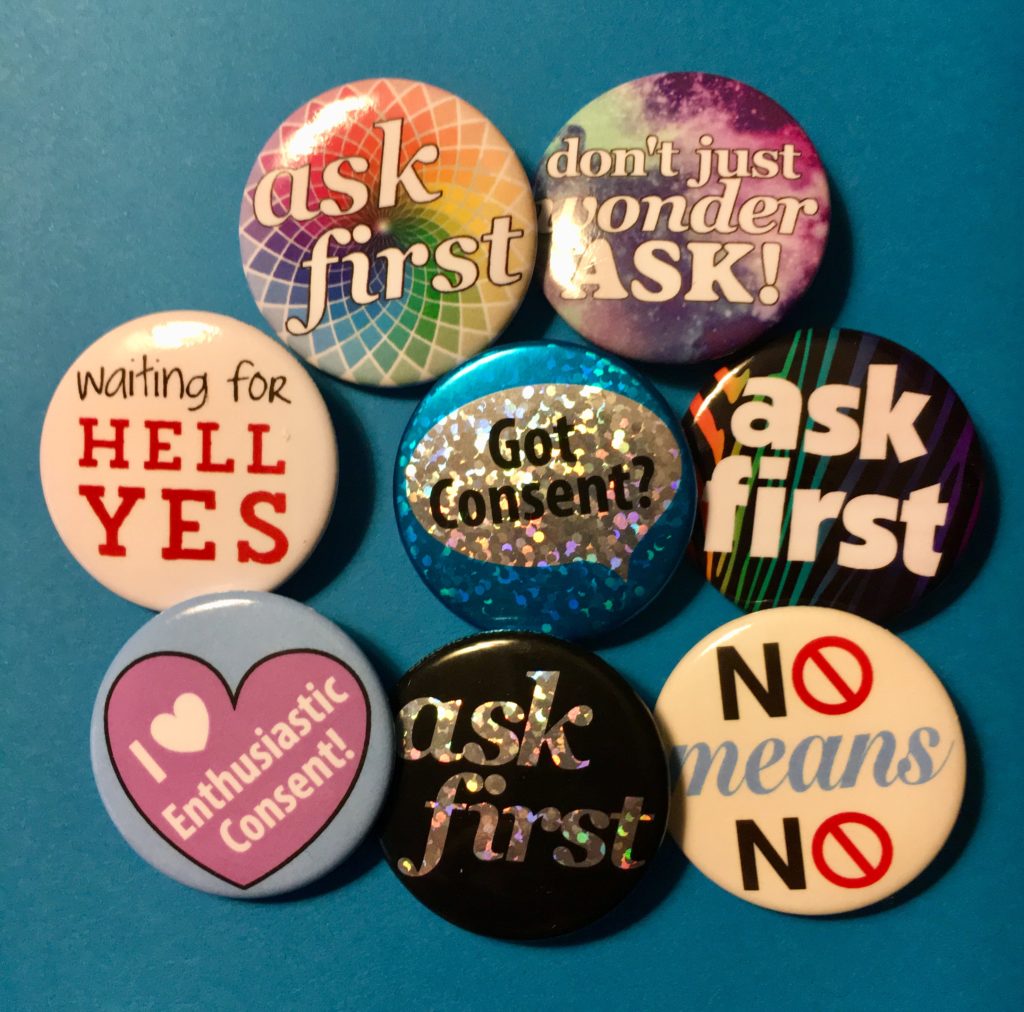 $7 = 50 Ask First rainbow 1.25" buttons (sample)
$9 = 50 Mini hell yes 1" buttons (sample)
$19 = 50 Oval Fuck Yes 2.75″ x 1.75″ buttons (sample)
$19 = 50 Square hell yes 1.5" buttons (sample)
$186 = 600 No means NO 1.5" buttons
$186 = 600 Hell Yes 1.5" buttons
$115 = 400 Don't just wonder 1.5" buttons
$230 = 800 Ask First rainbow 1.5" buttons
$230 = 800 Ask first zebra 1.5" buttons
$208 = 700 I <3 Consent buttons
$55 = 75 Got Consent? Sparkle 2.5" buttons
$200 = 4 different at-cost orders of special Ask First Buttons by april hl in Chicago
$1264 = Total Buttons
Stickers
$304 = 1500 Ask First 2" stickers
$19 = 50 Light My Fire 3" stickers
$259 = 950 Fuck Yes 2" speech bubble stickers
$171 = 100 Sticker Sheets  6"x4" & 6 stickers
$171 = 100 Bumper Stickers 7.5" x 3.75"
$924 = Total Stickers
Patches
$782 = 700 Ask First 2" Patches (Gold & Silver)
$142 = 50 11thP volunteer 3" patches
$125 = 150 Got consent 2" patches
$1049 = Total Patches
Cards
$56 = 1000 Red/Green Cards
$140 = 3000 Creeper Cards (3 kinds)
$202 = 3500 cards: Red/Green (2000) & Creeper Cards (3 kinds @ 1500)
$0 = 50 Zines (donated by april hl)
$398 = total cards
$3853 = total swag & materials
Other Expenses & Fees:
$0 – Envelopes for mailing (Amazon $7.94 in 2016)
$0 – Mailing labels (Amazon$12.52 in 2016)
$0 – Poly bags to protect mailing contents (Amazon $6.98 in 2016)
$18 = 140 Return Address Labels
$21 = 100 Bubble Mailers
$327 = USPS & UPS Postage
$11 = Paypal fees
$87 = Overspend from 2017 (see financials)
$464 = other expenses & fees
$4317 = total before discount 
-$188 = Bulk Order discount from Sticker Mule
$4129 = total spent
2018 Donors (listed with enthusiastic consent!)
If for some reason your name was included & should not have been, or if you wanted to be included & you are not, we apologize & want to make it right! Please send us an email: [email protected]
August Agape
Pax
Midnightt
Mal reags
Mallory Reagan
Celest Maisel
John Barbuto
april llewellyn
FireFox
Christopher Martian
Slightly
Nugget
Lynzi Purple
LooseSeal
Gyesika Safety
Gaia
Cobalt!
Blue
Lunar H3
Camp Justice League
Mark Eastwood
Leona Kashersky
Amanda Seibert
James Nelson
Jeremy Parker
Frieden L Johnson
Regina Twine
Lauren Guy
Artina Becerra
Heather Pierce
Sarah Dobro
Matt Tickner
Megan Rice
Thomas Huber
Vreanie Calhoun
Mallory Reagan
Russell Woods
Sarah Clem
Kalyn Howard
Heather Jeffries
Alan Cina
Charla Welch
Kristina Snyder
Sarah Ralph
Tracy Finnemore
Stacy Braslau-Schneck
Lynne Marie Parson
Mackenzie Dahms
CHristey Curran
Jessica Fisher
Melissa Larson
Julia King
Kelley Lynn
Emily kahn
Beth Walker
Maria Ruatto
Hannah Perry
Julia Wobbe
Lara Kent
Jeff Binder
Chani D Noel
Amanda Bociek
Angela Willing
David Robertson
Madeline Sharp
Beth Louisa Walker
Mary Green
Robert Mason Olrogge
Jason Kimenker
Shannon Grover
Amanda Wargo
Kelly Wilson
Emily Temple
Shannon Doty
Jonathan Lynch
Heather Bailey
Harriet Fain
Jessica Siemon